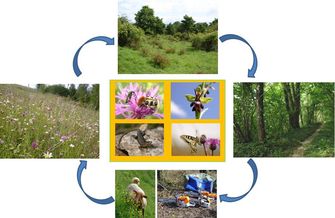 The LIFE Hélianthème project
From Marche-en-Famenne to Visé, passing by Theux, Huy, Durbuy and Aywaille, the Meuse basin's lower and medium valleys still house remarkable pieces of calcareous meadows, rocky meadows and calcareous rubble, extremely rich in plants and animals. So much more remarkable as numerous species grow there at the northern rim of their area of distribution in Europe.
In order to maintain, restore and upgrade this vast network of dry meadows and rocks, Natagora and Natuurpunt launched together an ambitious project that is largely sustained by the European Union and the Walloon Region through the LIFE + programme
This way, a network of some 150 ha of calcareous meadows and rocky meadows will be restored… What means are to be used ? This piece will be played in three acts.
First act : the restoration stage: clearing of bushes, cutting out of resinous populations planted on former calcareous meadows, mowing, root cutting… The objective ? Giving these useless wastelands, today largely dropped out of use, a new life…
Second act : setting up recurring management: calcareous meadows do not maintain themselves on their own. Wherever possible, the restored meadows will be entrusted to the teeth of uncommon administrators : sheep and goats. In the past, it was indeed thanks to these animals' grazing that calcareous meadows were created and maintained…
Third act : getting the public involved and making them aware : the discovery of this exceptional environment and alerting the public for the conservation of nature are a good match for the other items ! Guided walks, conferences, manifestations and didactic paths will be organised to get the public more involved in the protection of calcareous meadows and to help them discover and enjoy this fabulous common patrimony.